Platform overview
DoubleDown Casino has been operating in the market for many years and holds leading positions. The platform is one of the first to add new slots to the catalog and offers an extensive bonus program. Users can get rewards of different types, participate in missions, tournaments and invite friends. The advantage is also the availability of the VIP program.

DoubleDown Casino Games
Platform catalog has more than 500 slot machines. For convenience, it is divided into 3 categories:
What's Hot. These are machines with big winnings. In most of them the possible payout is several million tokens. These are such machines: "Buffalo Bash", "Davinci Diamonds", "Wild Honey", "Golden Chime".
Buy Chips. These are slots with the ability to buy bonus options. Playing in them accrued double experience points. We are talking about these machines: "Zodiac Dragon", "Amazing Safari", "Aztec Temple".
All Slots. All slot machines are collected here. Some of them are marked "Jackpot" - meaning that they played a big cash prize. These are such machines: "Arctic Goddess", "Treasure Box", "Banana Blast".
To start the machine, you have to wait until the end of the download. After this, select the number of active lines (if this option is available) and specify the bet amount. Prize combinations are formed as follows: in one line should fall at least 3 identical images.
In addition to slots, there are also card games in the social casino's catalog. These are online variations of roulette, poker, baccarat. They are in the minority, but also popular among players: "Cards & Roulette", "Hot Roulette", "Baccarat Pro".
Hight Limit Room
Hight Limit Room is a special room where you can get the most out of playing slots. It provides several significant advantages:
Double Jackpot. It is set for all slot machines.
High Limit Wheel. Each spin will bring larger cash prizes. As soon as the wheel is filled to 100%, additional spins and the opportunity to get even more profitable prizes are accrued. You have 14 days to fill the counter.
Early Access. Members who have access to the Hight Limit Room get to try out new items in the catalog before anyone else.
There are two ways to access the Hight Limit Room. The first involves the use of a booster. Its activation opens early access for the whole time while the booster will be active.
There is also a second way - rotate slots in the casino three days in a row. Each day the access counter increases. Once a player is able to enter a room with high limits, he will need to play every day to maintain access. If even one day is missed, access is revoked.
Seasons
Every registered user can join an exciting journey through the events. They run for a limited time and give you the opportunity to win different prizes. Events, known as seasons, start at different times and last a certain number of days.
Each season includes a series of stages with missions. These are scattered throughout different locations, which are called zones. Each stage has missions for a specific slot. To complete the missions, you will need to make a certain number of spins or place a specified amount of bets. Some missions involve more than one task. To complete a stage, you need to complete all the missions in one attempt.
A cash prize is awarded for completing the mission. This partly depends on the bet used in the slots. Points are awarded for each completed mission. They are summed up and displayed in the tournament table. Each player plays for a percentage of the huge reward.Learn more about how to get the most in-game currency you can on the page with free chips DoubleDown Casino. The more users compete, the bigger the total prize pool.
Missions
The casino regularly hosts missions. They are accessed by switching from the platform lobby. Let's look at the nuances of missions using the welcome stage as an example. The main purpose of missions is to complete tasks and receive prizes for it. Tasks are divided into two categories: basic and bonus. Depending on the category, different complexity of tasks and the size of the cash prize.
Missions are given a limited time. Let's look at examples of tasks:
Make 50 spins in any slot;
Spin more than 50 thousand coins;
Play 10 different slot machines;
Win 10 times in a row.
Every day the missions are updated. This gives an opportunity to get new prizes every day - chips or spins to play slots. Some missions are tied to a specific slot, but most of the missions are not related to the slot machines.
For completing a day's phase of 4 missions, you get 1 chip. It is added to the Wheel of Fortune and provides an additional cash prize. The size of the reward depends on the average size of the cash bet. Participation in the missions is not required, but provides an opportunity to receive lucrative prizes.
Download DoubleDown Casino app for Android and iOS
DoubleDown Casino is adapted to two operating systems - Android and iOS. This makes it possible to download the app in a couple of clicks. You can find the download link on our website as well as in official marketplaces like Google Pay and App Store. To download the software, you need to follow a simple algorithm:
Go to the link - the market page will automatically open, taking into account the type of operating system of the device. Another way: go to the market by yourself.
Type DoubleDown Casino in the search box.
Click on the button "Download".
Wait for the end of the installation.
Launch the casino app and create a new account.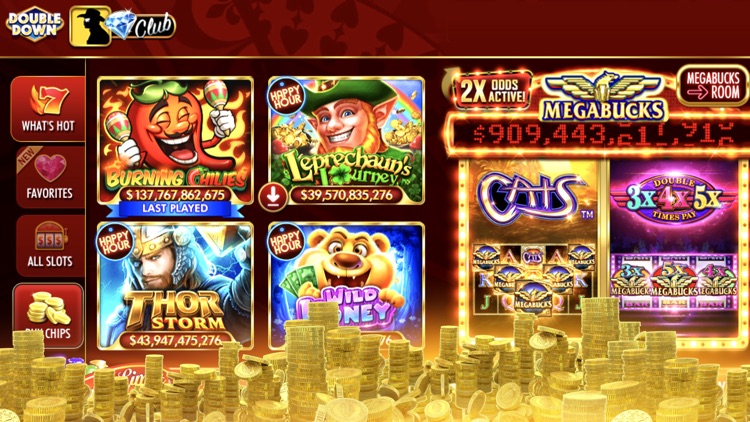 Before installing the software, make sure that it meets the minimum technical requirements. They are spelled out on the page of the casino in the market.
Advantages and disadvantages
| | |
| --- | --- |
| Pros | Cons |
| Over 500 slot machines | Access to some slots is limited |
| A room with high limits | Temporary status of seasons |
| Daily rewards | The difficulty of obtaining points increases with each level |
| Level system | A small number of card and board games |
| Constant updating of the catalog | You cannot withdraw your winnings |
Conclusion
DoubleDown Casino will appeal to users who want to enjoy games without a deposit. In the catalog with slot machines of the platform as well as in similar social casinos (DoubleU Casino, Jackpot Party Casino, Huuuge Casino) you can easily pick up a slot - it can be both thematic machines and card games. Players don't have to worry about free chips. There are more than 10 different ways to get them on the platform.
FAQ
Can I invite my friends to the casino?
Yes, users can invite new players to play together. To do this you need to click on the lobby button "Inbox" and go to the tab "Friends". After that, it remains to send an invitation in a convenient way and wait until they accept it.
What bonuses are available on the platform?
Most of the bonuses in the casino are available all the time and are awarded every day. These are bonuses such as Daily Wheel, Booster, Gift Spins. You can also get gifts for inviting a friend and subscribing to the newsletter.
Do I have to buy coins at DoubleDown Casino?
No, the purchase of coins on the platform is not compulsory. Coins for the game can be obtained for free by completing missions and activating daily bonuses.
How do I withdraw money from a social casino?
The option to withdraw winnings at DoubleDown Casino is not available. The game is played on the platform using virtual coins. With this in mind, the winnings are also virtual.
What tasks are available to registered players DoubleDown Casino?
With each season, the list of tasks is updated. Most of them are tied to specific slots. For example, to make 50 spins in "Ace of Vegas" slot or to put 1000 coins in "Magic Moons" slot.
What slots are popular on the platform?
Choosing a slot machine, guided by personal taste. The game is played for virtual coins, so you can test different machines and choose a slot that you like more than others.