Game Review
Coin Master is leading the market of casual games. This is easily explained by the original mechanics, which become more and more exciting with each level. The game will appeal to gamers of all ages - the reasons for this will be discussed in more detail in the review.

Gameplay
Coin Master gameplay has an intuitive interface, which is easy to understand even for a newcomer. The first thing the gamer sees when starting the game is an in-game machine with symbols. After that, he can go to the village - it is necessary to buy objects and improve them. This will allow to move up through the levels.

Separately, it is worth noting the special menu. It consists of several sections: "Village", "Shop" (here occurs the purchase of objects), "Wheel" (daily bonus), "Maps", "News", "Gifts" and others. The volume of the sound effects, as well as the animation and other details can be quickly adjusted in the settings section.
In-game slot machine
This is a classic slot machine with 3 reels, which can be found in classic casino slots. It is triggered by the presence of spins - the icon with the energy capsule. The maximum number of spins is not limited.

With each launch, prize combinations are built - they provide the opportunity to obtain valuable prizes such as coins or chests, as well as activating special modes: attacks on other users' villages or theft mode. The machine can also have unique symbols associated with game events.
Combinations and symbols
There are several main symbols on the in-game machine, which determine the prize combinations:
Coin. Adds a small winnings to the balance.
Bag of gold. If you collect 3 images, gives a solid cash prize.
Hammer. The combination of 3 images, activates the attack mode on other villages.
Shield. Added to the general line and allows you to prevent an attack on a village.
Energy Capsule. 3 capsules add 10 free spins.
Piglet. Activates steal mode from other gamers.
If you failed to collect a prize combination, the symbols still bring winnings. It is determined by the value of the symbols.
Levels In Game
A player's level is the village he is in. The transition to a new level is automatic as soon as all objects in the village are lined up. Each purchase earns one star. These are also awarded if you level up a pet or if you participate in a team.
Building villages
Each village has 5 themed objects and 20 improvements to them. You must buy all of the objects in order to build a complete village. The developers are constantly adding new villages - at the time of writing the review there were more than 500. Each village is themed: it can be dedicated to an era, a country, a certain historical period or phenomenon.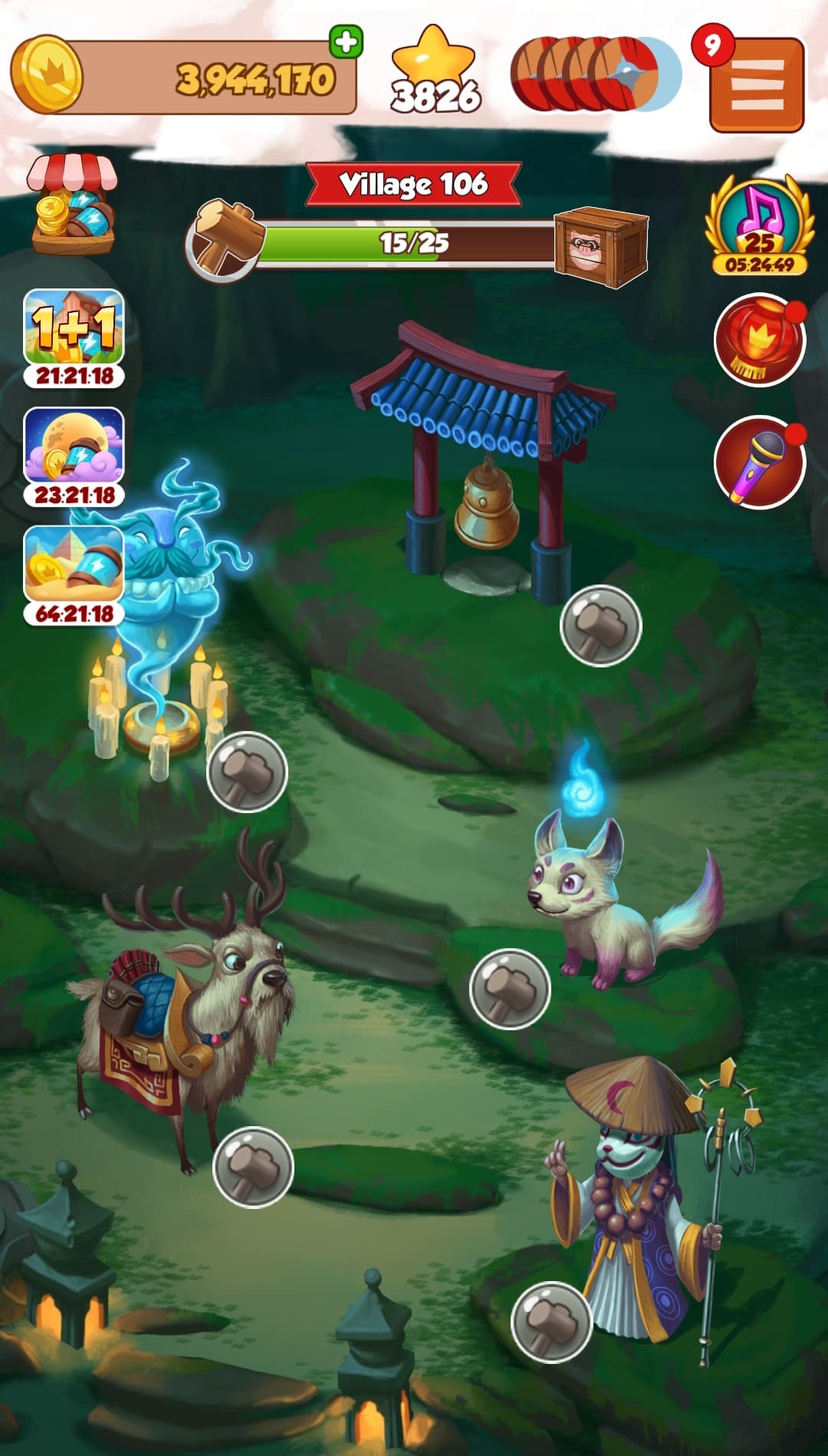 Advancement by Levels
To progress through the levels, gamers need to buy objects and improvements to them. Each village has 25 objects that need to be built. It is not possible to jump between levels, so users must rebuild each village that is presented on the map.
Stealing from Coin Master players
As soon as three images of a pig fall on the machine, the stealing mode is activated. It is to steal coins from other gamers. It is implemented as follows: opens player's village with 4 cells on the ground. The user task is to guess which of the cells hidden prize. One of them can be empty. The gamer can be helped by a pet in search of treasure.
Attacking Villages
As soon as 3 symbols with the hammer fall on the in-game machine, the "Attack" mode is activated. In it it is necessary to attack the villages of other gamers - you need to choose one object, which will be destroyed. If you manage to destroy it, the balance is credited with coins - their number is fixed and gradually increases with each level.
Growing pets
As soon as the gamer passes to the 4th level, the opportunity to interact with pets opens. There are 3 of them in total: the foxy, tiger and rhinoceros. Each animal is assigned certain skills. They can be pumped using a special potion. Do not forget that the pets need to be fed once a day.
Foxy
Foxy is the first pet that can be unlocked in Coin Master. The pet will be available immediately after moving to level 4, namely the "Inca" village. The key ability of the foxy is to increase the rewards for the raid. It works like this: during steal mode, the vixen digs up additional treasure, and thus increases the total winnings.
Tiger
To unlock the tiger, you must collect a complete collection of "Beasts" cards. This pet is capable of increasing the reward for destroyed objects during attack mode on villages. With each level of the pet, the amount of winnings will increase by 26%.
Rhinoceros
Once a set of «Creation» cards are collected, the Rhinoceros is unlocked. It is able to repel an attack on villages. As the level of the animal increases, the chances of being able to successfully repel an attack increase. For example, at the first level the chance of defending is 10% and gradually increases up to 40%.
Collection of cards
In Coin Master it is possible to collect cards. They are dropped for advancing to a new level and are also hidden in chests. Cards serve not only as collectibles, but also as prizes, such as free spins, coins, pet food, or a potion to boost your pet's level. On the page with free coins and spins Coin Master you can find out how to collect more rewards for the free game.
Tournaments
Anyone can participate in the tournament. This is a multiplayer event. The essence of the tournament is to accumulate the right number of points and get a prize for it. Points are awarded for raiding villages and stealing coins. The tournament has a limited time. Once points are earned, gamers are divided into separate groups and then compete against each other.
In-game events
Events are special actions, by performing which you can get a prize. Events are randomly selected on a daily basis. Each event has certain features. For example, "Obsession with villages" gives you the opportunity to get a discount on the construction of objects. If you activate "Attack and Raid Master", more valuable prizes will be awarded when attacking other villages.
Commands
Gamers can team up in teams. This will help you move faster through the levels, get special rewards or attack villages. Team tournaments are also available. In Coin Master you can create your own team or apply to join an existing one.
Download Coin Master app for Android and iOS
Coin Master can be downloaded to Android and iOS devices. Downloading is performed from the official Google Play or App Store, as well as through a link from our website. The installation takes a few seconds and later the game is updated automatically. Before installing, it is recommended to make sure that your device meets the technical requirements.

Advantages and disadvantages
| | |
| --- | --- |
| Pros | Cons |
| Comprehensible gameplay | You can lose all your money in stealing mode |
| It's easy to earn coins | The cost of facilities is constantly increasing |
| Ability to play in a team | It's hard to find rare cards |
| Daily bonuses | Pet food is given once a day |
| Unlimited number of levels | There is a risk of retaliation from other gamers |
Conclusion
Coin Master will appeal to all gamers who appreciate not only the colorful design, but also the original mechanics that distinguish it from similar games like Pirate King, Island Kings and others. The game captures from the first spin of the machine: users have to pump villages and compete with other players. New bonus features are constantly being added to the game, which fuels interest.
FAQ
What pets are best to use in Coin Master?
You should choose a pet based on the task at hand. For example, a rhinoceros is good for defending a village, and a fox is good for a raid mode.
What is the maximum gain for an attack?
The size of the win depends only on the level of the gamer. The higher it is, the bigger the attack prize will be.
How many levels are there in Coin Master?
The number of levels in the game is unlimited, as the Moon Active development team is constantly adding new villages. This leads to an increase in levels.
Can I give cards to other gamers?
Yes, Coin Master has a special mode of card exchange. To do this, you need to select a friend in the section with the cards, to whom it will be sent.
Are there daily bonuses in Coin Master?
Yes, these include not only events, but also the Wheel of Fortune. Prizes are awarded daily. are also awarded for the first entry into the game.
How do I get my prize chests?
The chest is given for moving to a new level. They can also be found during raids on other villages. Keep in mind that chests come in 3 types.